Published Books and Chapbooks
Ann Tweedy's first full-length book, The Body's Alphabet, was published by Headmistress Press in August 2016 and won both a Bisexual Book Award in Poetry and a Human Relations Indie Book Award in 2017. It was also selected as a finalist for a Lambda Literary Award and a Golden Crown Literary Society Award. Additionally, her first chapbook, Beleaguered Oases, originally published in 2010, was re-issued by Seven Kitchens Press in April 2020. A hybrid chapbook, A Registry of Survival, is also scheduled to be released in 2020 by Last Word Press. Ann's second chapbook, and White Out (Green Fuse Press 2013), explores race and whiteness.
Ann's poetry has appeared in Clackamas Literary Review, Rattle, damselfly press, Lavender Review, literary mama, Harrington Lesbian Literary Quarterly, and elsewhere. Ann holds a Master of Fine Arts in Creative Writing from Hamline University. Originally from Southeastern Massachusetts, she has lived in many places on the West Coast and in the Midwest. She recently moved from Washington State to Southeastern South Dakota. She is also a law professor and a practicing attorney who represents Indian Tribes.
---
AUGUST 2016
The Body's Alphabet
Winner, Bisexual Book Award in Poetry, 2017
Winner, Human Relations Indie Book Award, 2017
Lambda Literary Award finalist, 2017
Golden Crown Literary Award finalist, 2017
Ann Tweedy
Published by Headmistress Press, Sequim, WA
108 pages
$10.00 plus $3.00 shipping and handling
"Home is the structure you build when nowhere else will have you," writes Ann Tweedy in this gutsy, no-nonsense collection of poems built on a precarious and often tender journey through homes no longer available to return to. The result is neither sadness nor nostalgia; it is hard, clean narrative of self-preservation and survival, fitted with unexpected joy. I feel such kinship with these poems, their testament to the strength and determination of women and men who struggle to build life anew, and to find home and happiness in a world of travail. What a blessed space this book is: a home for the wayward soul.
       – D A Powell, American Poet

What made me sit down and read The Body's Alphabet, cover to cover, in a single evening? Perhaps it is the way that I know, in Ann Tweedy's poems, I will find the unvarnished truth, and a voice with "the drowsed freedom to talk about anything." And I know I will find that truth compassionately rendered, details delicately arranged like the flowers of the "dutiful and stubborn" forsythia of which she writes. This is a book about finding homes for ourselves — homes for our adult selves, even as complex memories of our childhood homes still live inside us; homes for our bodies; homes in the natural world. Tweedy's vision is both hopeful and wise.

       – Katrina Vandenberg, author of Atlas and The Alphabet Not Unlike the World

Ann Tweedy's first book is a brave and honest examination of liminality. In delicate lyrics she confesses to trespass, asking readers to question the boundaries between acts and identity, sexuality and family. The Body's Alphabet documents the poet's courage, living openly as a bisexual feminist. Although childhood logic taught her that "home is the structure / you build when nowhere else will have you," these beautiful poems knit and nest safe haven for a life spent gathering freedom.

       – Carol Guess, author of Doll Studies: Forensics
Read Siham Karami's review from Glass: A Journal of Poetry
Read Rebecca Valley's review from Drizzle Review
Read Trish Hopkinson's review from Literary Mama
---
NEW IN APRIL 2020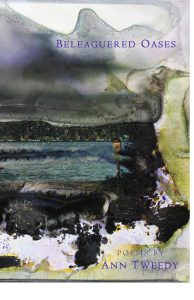 Beleaguered Oases
Chapbook by Ann Tweedy
Second edition published by Seven Kitchens Press in 2020
21 pages
$9.00 plus $2.50 shipping & handling (Ships in 1-2 weeks)
In Beleaguered Oases, a surprising bestiary—fox, hummingbird, moth, newt—gathers to impart its wisdom on the most displaced member among them—the human animal. Ann Tweedy's poetry is a lyrical celebration of the emotional truths and hard-won lessons that speak to us through the natural world. For those who feel disoriented by the "ecstatic cacophony" of our harried lives, never fear, the still-water clarity of these poems is healing.  Listen: "home is the structure you build when nowhere else will have you."

       – Rigoberto Gonzalez, author of Other Fugitives and Other Strangers and Butterfly Boy: Memories of a Chicano Mariposa

Ann Tweedy's poems are finely tuned soul-breaking songs of empathy and engagements with longing. These poems always look to the transformative, as bodies, natural affinities and words seeking spirit and wholeness. With Tweedy's work we enter into in a natural quiet observation, into ironies of contemporary life. In these oases, beleaguered by time, hope, futility and humor, readers will find real poetry, considerate and direct, lyrical and mystifying, with an eye, ear and heart, for image, speech, rhythm and situation, in poems cast with sensual immersion in ways of the world and people. I look forward to reading more of Tweedy's work in days to come.

       – Gordon Henry Jr., author of The Light People and The Failure of Certain Charms and Other Disparate Signs of Life

America is not a place that lets a man weep but reading Ann Tweedy made me weep for me, my friends, the unloved. A poet is fierce because she sees what is better than what's in a vision; she sees what has always been real. This book is one written to be reread.

       – Rane Arroyo, author of The Buried Sea: New and Selected Poems and Same-Sex Seances
Read the review and interview in Untitled Country Review
---

White Out
Chapbook by Ann Tweedy
Published by Green Fuse Poetic Arts, Loveland, CO
$10.00 plus $3.00 shipping & handling
Surprised by otherness and the confusion that comes with the gifts of negative capability, Ann Tweedy walks into the wonder world of invisibility and makes her report. "…have to keep reminding myself to include it…" she writes in "Whiteness" her opening poem, unsettling readers as much as herself. That she is aware of her otherness is her great gift. This is not a report from an ordinary radical but an exploration of praise "honoring uncertainty." She is more of a sister than any could suppose, and the only way to know her is through her poems. Tweedy is gifted with curiousity, she doesn't know why "two faces still beam a false meaning." She walks in shoes of irony "smiling from the sunbeam wrapper." She is a theologian of the muse. These poems tell us something of the cost of discipleship, something many poets in their great ambition never seem to wonder about. Her muse, looking on in silence, must be very proud.

       – Jim Bodeen, Publisher and Poet
Read Mary Kasimor's review from The Altered Scale Blog